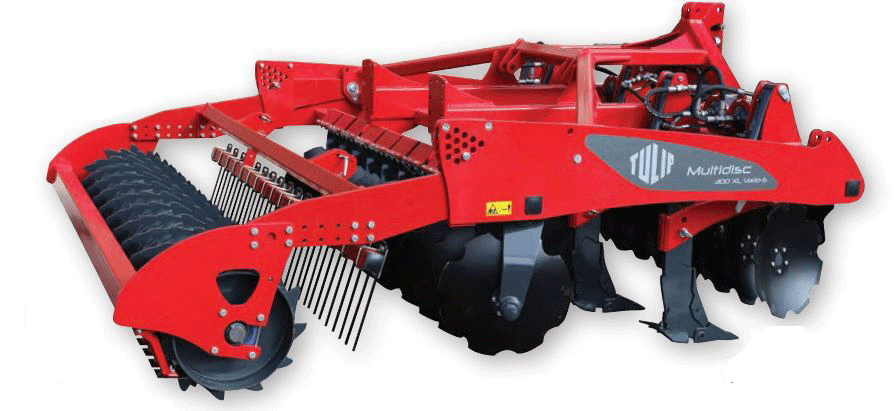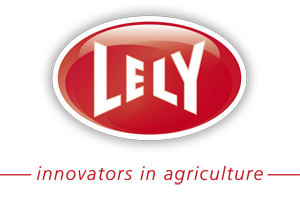 .
.
.
.
.
.
.
.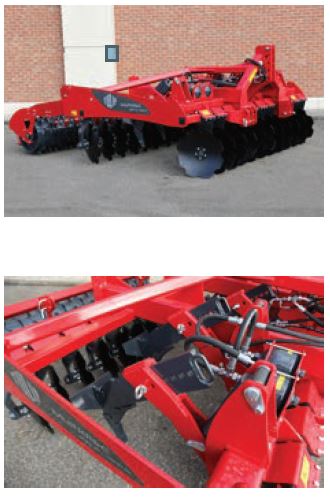 Standard specification
Integrated subsoiler tines with hydraulic stone protection per leg
2 Rows of large discs made out of hardened steel Ø 560 mm
Replaceable tine points, shins and wings; 6 models of wings available
Heavy bearings with overdimensioned wheel hubs, low maintenance
Torsion bar suspension by means of triangular rubbers for a maximum freedom of movement of every disc separately
Stable, powder coated frame with robust headstock, prepared for the assembly of a Tulip airseeder
Up to 350 XL Vario (-S): linkage cat. III
Up from 400 XL Vario (-S): linkage cat. III/IV
Depth control by means of the floating system with crumbler roller Ø 520 mm


.
.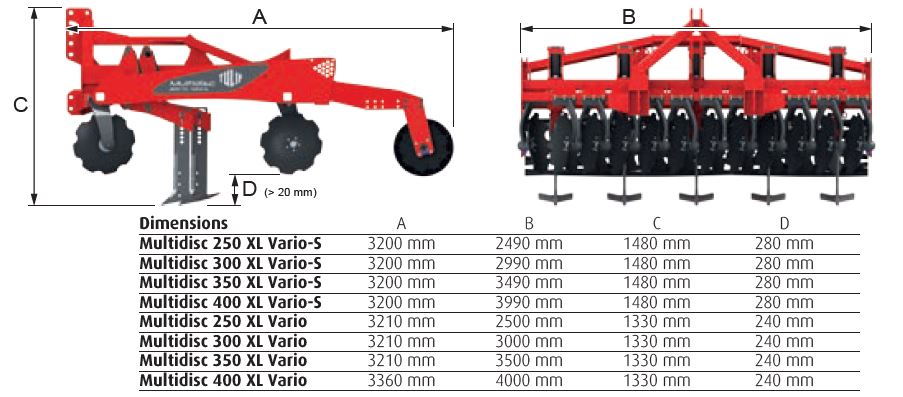 .
Special benefits
Tillage of the upper soil layer and deep cultivation in one pass
Extra strong box section on which the tine holders are fixated. By folding the legs you can turn the machine into a normal disc harrow
The tines are individually adjustable in both height and width. So it's possible to position a tine right in the wheel track of the tractor and to set it a little deeper than the other tines. Or just mount 2 tines and use  them only in the tram lines.
Depth of tines: from 2 up to 24 cm under the discs. So both shallow and deep tine settings are possible.
Non-stop operation: if necessary the tines can break out upwards. The discs and roller continue to follow  the ground. Afterwards the leg is automatically pushed back into the soil. The sensitivity is adjustable.
Hardened steel discs, solid side fastening with 5 bolts 10.9, simply accessible.
The aggressive action of the serrated discs and the extra large distance between the rows of discs give an  ideal mulching and mixing result of crop residue or green cover crops.
Extra protected sealing of the bearings; lubricator chamber provided with a large quantity grease; hot  forged hub.
.
Further explanation accessories
The packer roller Ø 500 mm and the packer roller Ø 600 mm are in combination with this heavy machine  only suited for heavy, non sticky soil.
Hydraulic roller adjustment: two cylinders who fold up the roller so that the point of gravity comes closer to the tractor
Straw harrow: is mounted behind the last row of discs and assures an improved coverage of crop residue.  The height and angle are adjustable.
Soil deflector plate right: a ground following side plate which keeps the soil stream inside the working  width. Transport width increases with 7 cm.
Central greasing: all grease nipples are brought to one point.
Oil bath bearing: maintenance free bearings in an oil filled housing.