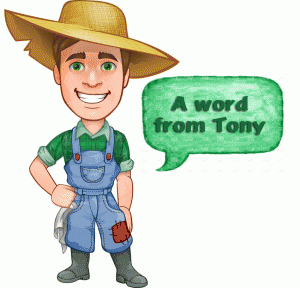 The Lely Power Harrow was designed by van der Lely's over 50 years ago, with over 40 patents on the machine. They have a unique clutch system which is patented by Lely as a self loading sheer pin, which gives you 40 brakes without reloading, rather than using less functional ratchet clutch and frictional clutches on all of the machines. These machines are exceptional quality, and some of these machines have done well over a million acres in very arduous conditions including sand, rocks and clay. Tony's rating: 10/10
.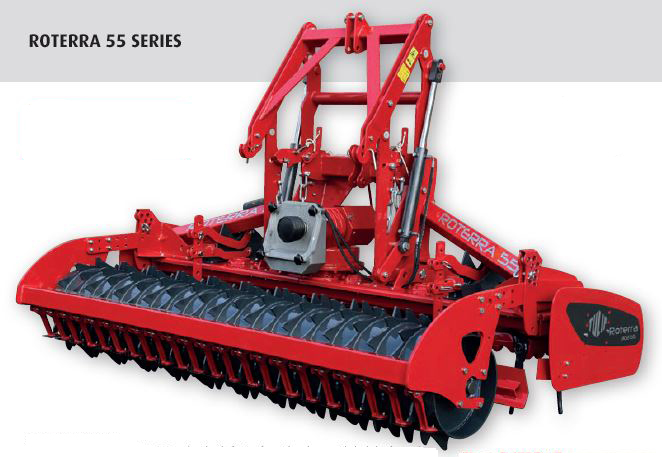 .
.
.
.
.
.
.
..
.
.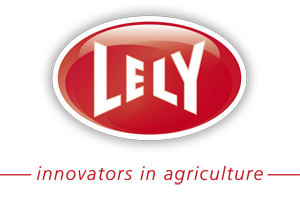 The Lely Roterra 55 Series Power Harrow is a new design with a heavy modular 3-point hitch and reinforced roller arms. There is a large distance between the bearings in the trough, which means the bearings are subject to less forces, resulting in extra stability. This extends the lifespan of the bearings and large forces can easily be absorbed.
Tines are hardened in 5 zones for extra toughness and extended lifespan. In the top region the tines are very tough while, with a transition from the middle, the tines get harder and more wear-resistant. This makes the Tulip club tine extra durable and at the same time tough enough to handle the most extreme conditions.  It has the widest range of gear sets available on the market. An optimal rotor speed can be set in all soil conditions. It is always possible to work with the most efficient engine speed of the tractor.
There are 4 rotors per metre for a low power requirement and thus fuel saving. Adjacent rotors overlap each other. It has reinforced roller arms with 20 mm pins and floating system with many settings. The new design heavy modular 3-point hitch has a compact build and linkage. Many ways to mount are provided. Optional: the hydraulic linkage provides the ability for a compact mounting of Roterra and seed drill that makes driving on the road safer.
A spring-loaded rotor guard ensures that stones that come in front of the machine are pushed down and so the rotors are protected. If a stone would end up between rotors and the rotor guard, it can pivot forwards to let the stone pass through the machine.
The Walterscheid PTO shaft with cam-type-cut-out clutch or optional Tulipmatic shearpin automat.  The advantage of the Tulipmatic is that time after time, after overload the connection is broken at the exact specified moment. This reduces the chance of damage as a result of overloading the  machine.
The side deflectors are adjustable so that a perfect connection with the previous working pass is obtained. They are also foldable for road transport. This way a Roterra 300 stays 300cm during road transport.
The dragging club tines have a special round shape. The shape avoids smearing of the soil, and  clods are broken up without the natural layers of the soil structure being affected. Furthermore the dragging position keeps the lower layers of soil where they are, and stones are pushed downwards rather than upwards. Due to the round shape of the tine, fuel is saved because not once the tine will have a flat surface facing the driving direction. This makes the Roterra pull much lighter.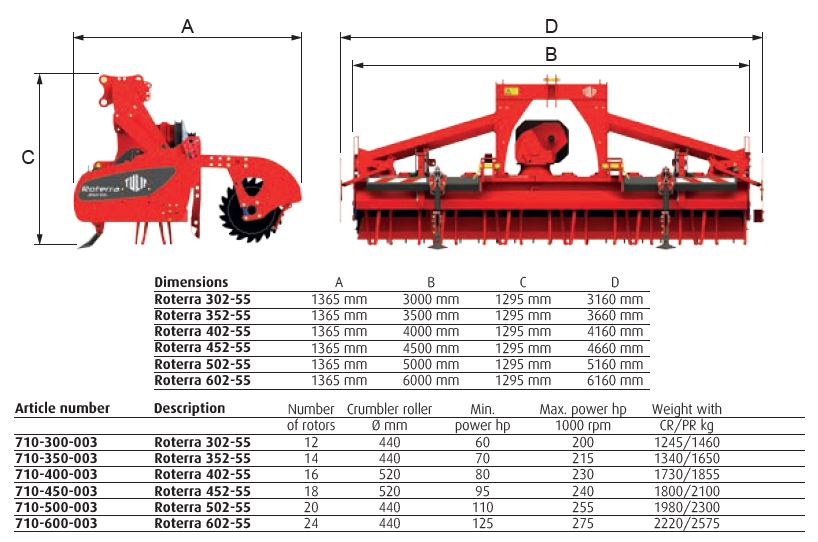 .
Standard specification

•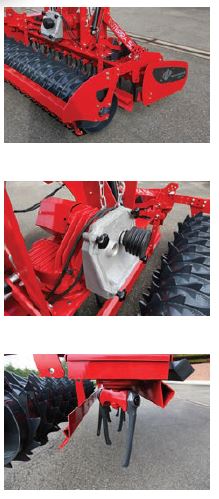 Club tines (max. working depth 280 mm) with side-fixation for quick exchange with the help of an air key
• Heavy three point headstock with heavy duty square support beams (100×100 mm)
• Linkage cat. II and III
• Floating suspension of rotor guard
• Rigid torsion-free geartrough with a flanged lids for a long life
• 302/402/502/602-55: heavy duty gearbox (central drive) suitable for 1000 rpm
• 352/452-55: heavy duty gearbox suitable for 1000 rpm
• 302/402/502/602-55: set of gears 24/19 at 1000 rpm
• 352/452-55: set of gears 20/15 at 1000 rpm
• 302/352/502/602-55: floating system with crumbler roller Ø 440 mm
• 402/452-55: floating system with crumbler roller Ø 520 mm
• Foldable soil deflectors, adjustable both horizontally and vertically
• 302/352/402/452-55: Walterscheid PTO shaft with cam-type-cut-out clutch (1 3/8" – 6 splines at tractor side)
• 502/602-55: Walterscheid PTO shaft with shearpin automat Tulipmatic (1 3/8" – 21 splines at tractor side)
.
Special benefits
• Patented club tines: due to the shape, side-fixation, material and production technique, the tines guarantee high quality and long life. These club tines are fitted by a single Allen headed socket bolt and a unique captivated self locking nut. Because the bolt is accessible from the side, the tines can quickly and easily be changed thanks to the Easylock system by means of a power tool or socket. Fuel saving up to 20% in comparison with knife tines.
• Heavy duty rigid torsion-free geartrough with flanged lid, large diameter shafts and bearings as well as a large spacing between the top and bottom bearings.
• Geartrough completely sealed to ensure no contamination of the drive gear lubrication. Incorporating self lubricating, double sealed, heavy duty bearings.
• Patented spring-loaded rotor guard: stones and other objects are pushed down and can pass through the rotating tines.
• Foldable floating soil deflectors: working width = transport width.
• Floating system: if necessary, the Roterra power harrow can break out upwards independently from the roller. The roller continues to follow the ground.
• Rigid portal headstock: centre of gravity is positioned closely to the tractor, makes working with a less powerful tractor possible.
• Rotor speed: quickly and easily changeable gears.
• Compact engineered: headstock and support frame suitable to mount secondary equipment like seed drills or planters, offers seeding or planting in one pass.
Points of interest
• For machines without central drive (352/452-55) which are used in combination with a seed drill a shearpin automat Tulipmatic is recommended.
• Shearpin automat Tulipmatic is recommended in soil with stones.
• The standard long tines 280 mm are only applicable for stoneless soil. For other soil types we recommend you to use tines 240 mm.
• The mentioned powers are measured on the PTO-shaft.