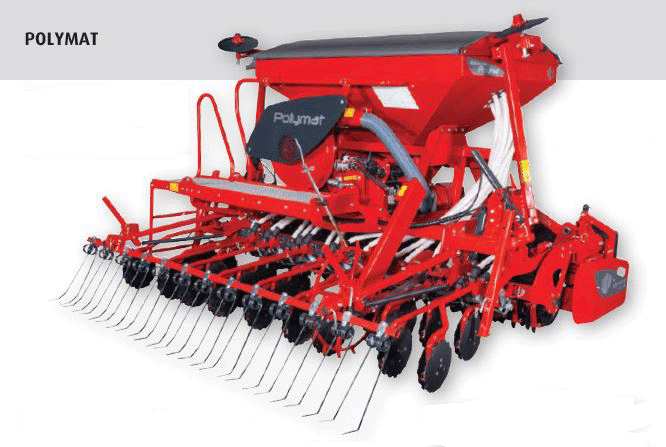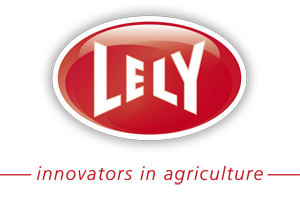 .
.
.
.
.
.
.
.
.
.
.
The Polymat and Polyliner Eco are equipped with the EASYtronic E control system. This compact computer contains hectare counters and  alarms, such as low seed level signalling device, forward speed and fan  speed. This terminal also controls the tramline system (optional).
New design hopper
Easy to mount
Modular on our Multidisc XLH and XXLH
EASYtronic electronics
Low-noise, oversized fan for low rpm and long life.
The Polymat and Polymat Compact 8 are driven by a large and durable metering wheel.
On Polymat and Polymat Compact H, stairs and platform are standard (optional on Polymat Compact 8).
The Polyliner and Polymat Compact H use the EASYtronic seeder computers. The dose rate control is fully electronic and the calibration test is fully automatic.
The Polymat and Polyliner coulter bars have 2 rows of coulters. This results in more clearance between the coulters and trash is able to loosen easily. The pressure of the coulters can be adjusted individually if required.
The Eco distributor beams are specifically designed for an even and full-width distribution of the seed pellets. The distributor beam can be mounted in front or behind the roller. There are many adjustments possible to obtain an even covering of the soil.
Perfect dose and distribution: throughout the years the metering unit has proven its accuracy and durability. Application rates range from 0,5 to 400 kg/ha. The metering unit is infinitely adjustable and has  a reduction setting for the use of fine seeds.
A cleaning brush is standard. The seeds are dropped into the air flow and transported via a specially shaped elevation column, then distributed evenly to the tubes by the distribution head. Not applicable for Polymat Compact 8.
Compact mounting keeps the centre of gravity close to the tractor.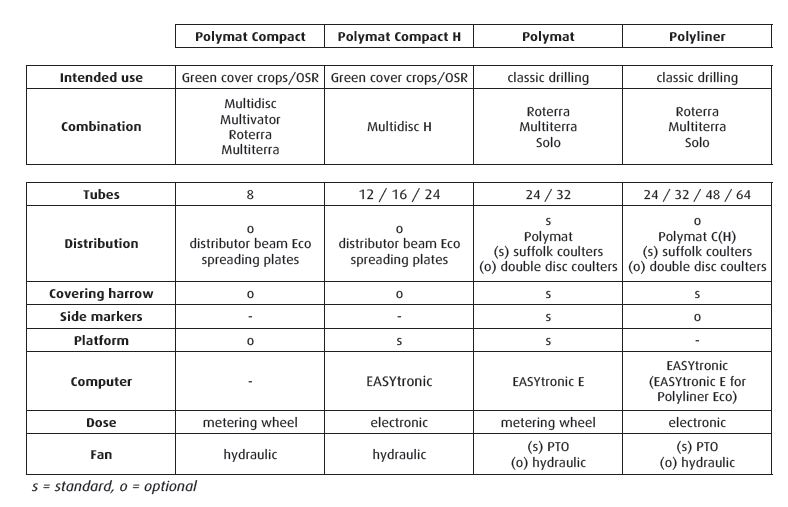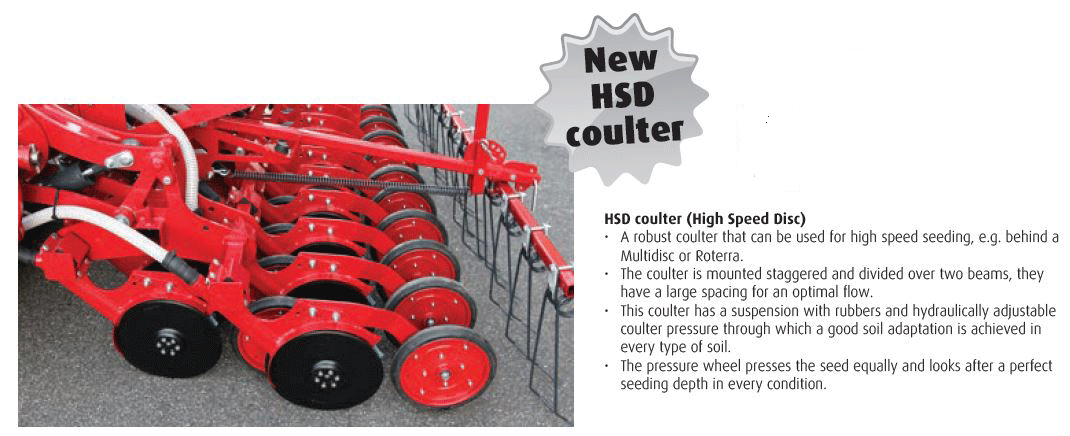 .
.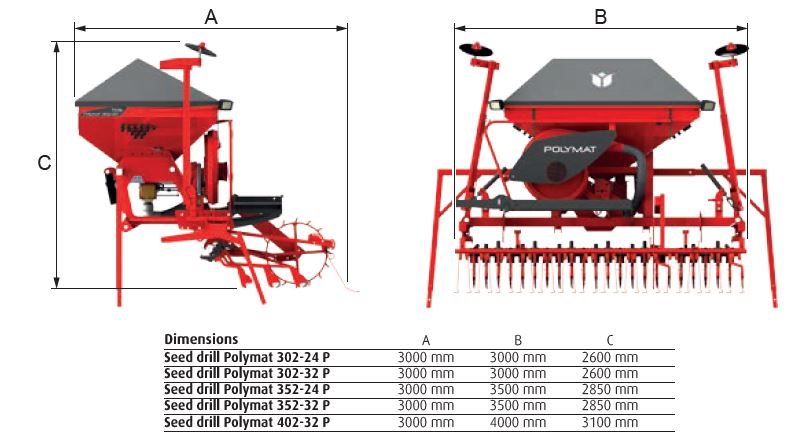 .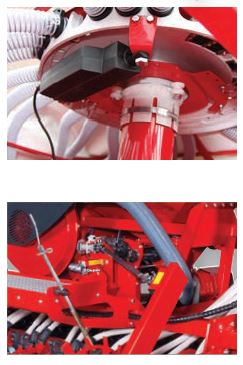 Standard specification Polymat 
Universal metering device for cereals and prilled seeds
Output of 1 to 360 kg/ha (peas and beans approx. 450 kg/ha)
Supplied with suffolk coulters
Central and individual coulter tension adjustment: maximal adaptation to different circumstances
Hopper capacity: 820 litres
Filling platform accessible from the side
Seed coverage harrow is lifted simultaneously with the coulters, the metering wheel and the markers when turning on headlands
Parts for linkage to the Roterra and Multiterra machines
Markers left and right with shear bolt coupling
EASYtronic E control system
Mechanical drive of fan (1000 rpm)
Walterscheid PTO shaft (1 3/8" – 6 splines tractor side)
Supports for linkage to packer roller
.
.
Special benefits
Pneumatic dosage unit: perfect dosage and distribution. The metering unit gives a complete range of  application rates from 1 to 360 kg/ha. The metering unit is stepless adjustable and can be adapted to the  use of small seeds by means of change gears.
Three rows of coulters: the coulter beam is fitted with three rows of coulters. This gives considerably more clearance between each coulter. Crop trash discharges more easily, avoiding disruptions.
EASYtronic E: this compact terminal with touch screen and color display includes hectare counters and a  control system that shows dosage faults, fan speed and hopper content. This terminal also controls the  tramline system (optional).
.
.
Further explanation accessories
Full-width sowing coulters: enable nearly full field sowing in combination with the Polymat 302-32 P/W.
Coulters TDS: these double disc coulters grasp into each other ensuring that they keep on turning. They are equipped with internal scrapers and because of their shape they do not sink too far into the soil.
Coulters HSD: these coulters can be used for high speed seeding. This coulter has a suspension with rubbers and hydraulically adjustable coulter pressure The pressure wheel presses the seed equally and looks after a  perfect seeding depth in every condition.
Depth limitation skids: to achieve an optimal sowing depth in all circumstances.
Solo hitch: for direct linkage to tractor.
Pre-emerge marker kit: marks the spray tracks during sowing.
Tramline system: during sowing, tracks in the crop are kept clear in a pre-set rhythm. Accurate fertiliser  spreading and spraying becomes easy because, when using these tramlines, you don't require any GPS  assistance.
EASYtronic instead of EASYtronic E: this compact terminal with touch screen and color display is linked via CANbus with the job computer on the machine. In addition to the EASYtronic E specifications, this  combination regulates automatically the dosage, tramlines, etc. These values are shown on the screen.
Polymat W (with foldable wheels): during sowing the Polymat W rests on the wheels and not on the Roterra harrow. Therefore the Polymat W can also be used individually using the optional solo hitch or can  be mounted behind a rotary arrow of any brand.
.
.
Point of interest
Please specify at time of order: tramline width, track width tractor/sprayer and tire width tractor/sprayer.