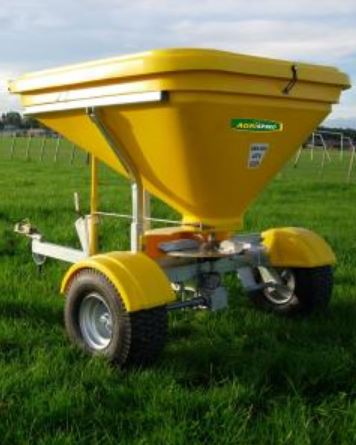 The Reece SNG460 spreaders feature fully galvanised frames, UV stable hoppers and marine grade stainless steel aperture and spreading components.
The Reece Agrispred® range has been developed from more than 40 years of experience in the field working with farmers and contractors.
Features on select spreaders include:
Dual height settings for drawbar ensures level spreading at all times
Stainless steel aperture and spinning discs
Hoppers are supported by a full cradle
Swivel tow which standard for safety
Adjustable spreading fins for flexible spread
Superior clutch mechanism
Hydraulic shutoff options available
New square hopper for better rigidity and of lower centre of gravity.
Moulded from UV stabilised polyethylene, will last for years
Galvanised Steel construction
Integral hinged lid. With stainless steel fixings, it can be easily removed.
Wide wheel spacing and floatation tyres for excellent stability.
Maintenance free, totally enclosed gearbox drives spinner disc
Flat and wide stainless steel spinner disc provides excellent velocity ensuring an even spread and is less prone to windage. Adjustable vanes allows the user to adjust pattern/direction of spread. Spinner shaft is bearing supported.
Stainless steel aperture parts.
Will spread fertilisers, granules and seeds.
ADDITIONAL SNG (trailed) FEATURES:

Height adjustable drawbar with swivel towhitch for safety.
Mudguards standard.
Simple drive-pin drive system. Easy to engage and dis-engage with no moving parts.