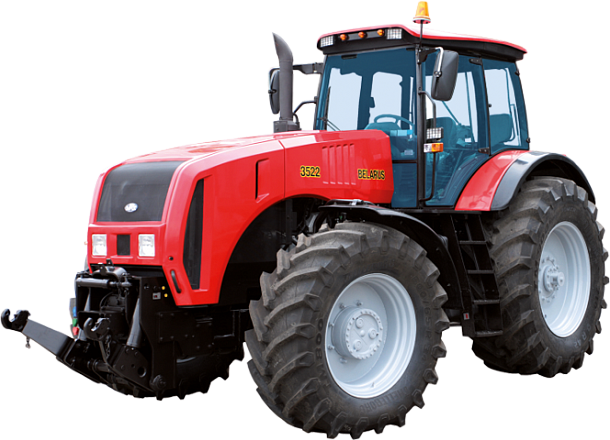 .
.
The Belarus 3522.5 tractor is designed tor various power-intensive agricultural operations in towing and towing driven modes in combination with wide-cut and combined machinery at general tillage and pre-sowing soil treatment, sowing of grain crops and other crops, harvesting of roots, grain and industrial crops; for transport operations, stationary operations, in construction and industry.
Diesel engine complies with Stage Ilia (3522) and Stage lllb (3522.5) according to emissions of hazardous substances. Hydraulic hitch system with electrically controlled distributor EHS and EHR-5, set tor rear wheels doubling in standard components, air conditioner, front hitch, front power take-oft'shaft (PTO).
.
Additional options:
Fmnt ballast weights up to 1350 kg;
Set tor front wheels doubling;
Front wheels 710/55R30;
Rear wheels 900/50R42.
.
Technical characteristics
.
Engine
Type
liquid-cooled diesel, 4-stroke with turbocharging and intermediate aftercooling
Capacity, h.p./kW
355/261
Brand mark
TCD7,8L6
Ecological standard
Stage III3B
Fuel use, g/(kW·h)
240 ± 5
Torque capacity, Н·m2
1449
Transmission system
Number of gears FWD/BWD
36/24
Back PTO shaft, min-1
1000
Hydraulics
Load-carrying capacity of back suspension gear on suspension axis, kg, minimum
10000
Full scale pressure, MPa
20,5 ± 0,5
Pump displacement at nominal speed of diesel crankshaft, l/min, minimum
160
Hydraulics reservoir capacity, l
116,5 ± 0,5
Undercarriage
Type
wheeled
Axle arrangement
4К4
Tyres
front
18.4R34
back
650/75R42
Other specifications
Maximum weight, kg
14000
Climatic modification
У1
Minimum and maximum speed FWD/BWD, km/h
Min 0,34/0,43; Max 40,00/20,80