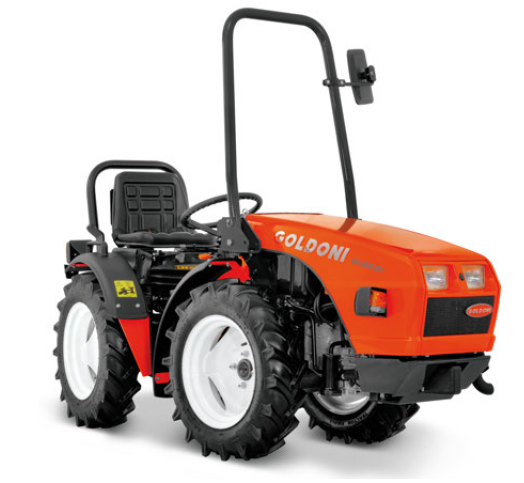 .
.
The Goldini Base 20 is the ideal tractor for the demanding professional user or D.I.Y. enthusiast, people who need a toughly-built yet compact machine that's also economical to run.
Practical to use, Base 20 is an articulated tractor with isodiametric wheels that's both easy to handle and functional, while being small in size.
Sturdy
Articulated
Minimum width 80cm
The world's smallest equal-wheel tractor
Low center of gravity, compact and agile shape
Strong bearing structure with an optimum weight  distribution (50% at the front – 50% at the rear, with the
implement hitched).
Specialized, compact and reliable tractors by definition.
.
Tried-and-tested engines
Base 20 features a 2-cylinder air-cooled Lombardini engine that's proved to be both reliable and long-lasting.With its 22 hp power rating and 954 cc. swept volume, this Euro II approved engine also provides optimum performances with a low impact on the environment thanks to its low emissions and silent operation.
Efficient and safe in every condition.
The braking system, which acts on all the tractor wheels, features a mechanically controlled drum system that guarantees optimum
braking efficiency in every condition while needing very little maintenance.
Smooth, simple and long-lasting.
The transmission of the Base 20 tractor has been designed to provide the right ratio for every job although preserving the simplicity that makes a transmission indestructible throughout the years. The 6+3 gearbox comprises three ranges (normal, fast and reverse), each with three speed gears. This means that the speeds range from 1,2 Kph to 18,4 Kph in the forward direction and from 0,8 Kph to 2,6 Kph in reverse.
Tight turning radius.
The steering system of the Base 20 tractor is the hydraulic hydrostatic type with a cylinder that acts on the central pivot. This achieves even tighter turning radius of as little as 1,20 meters. The 45 degree steering angle makes the tractor highly manoeuvrable when work must be carried out between the rows of vineyards and greenhouses, and saves a lot on manoeuvres and time.
The little isodiametric tractor.
As to compactness and low weight, Base 20 is Goldoni's smallest tractor. Its minimum width is a mere 800 mm, the maximum length 2500 mm and the weight 750 Kg, making Base 20 a compact machine but with the right weight for guaranteeing both stability and strength. Base 20 has been designed for work between the narrowest crop rows and for use where space is at a premium in greenhouses and the like, while being very comfortable to use for the operator.  This isodiametric tractor ensures an optimum wheel grip rough in every situation, on heavy soil, rugged and sloping ground, thanks to the front axle, which swings 16 degrees. This allows the machine to hug the ground in even the most critical conditions, providing an unexpected driving power for such a small vehicle.
Enough power for every need.
Base 20 features a 540/540E rpm independent power take-off that's synchronized with all the gearbox speeds.
The right flow rate for every job.
With its 18,5 l/min flow rate and two double-acting rear control valves, the hydraulic circuit allows the tractor to hitch the most modern implements.
Designed for the people who use them.
Base 20 has a driver's seat assembled on an elastic suspension, that can be adjusted as to height and distance from controls. All this creates a comfortable environment for operators who must spend many hours of the day working with the machine, but also for the D.I.Y. enthusiast who's not used to working with an agricultural tractor. When it comes to safety, Base 20 has a folding safety frame, all the active and passive protections in compliance with EEC standards, soundproofed exhaust pipe and bonnet. Moreover, this tractor is also equipped with the Push & Start safety device on the clutch pedal and a lock that blocks the power lift lever in the neutral position.