HP 180-350   KW 132-255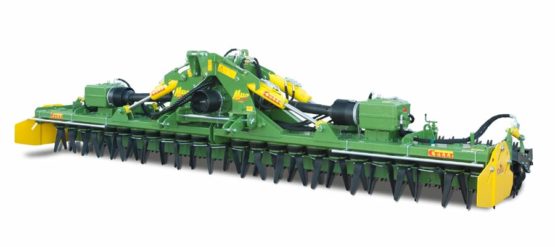 The Celli Maxi-P Folding Power Harrow is ideal for:
Working with large tractors
Working with tractors above 190 HP
Cultivating heavy and sticky soil
Working in rocky soil
Working soil in depth
Preparing large fields quickly
Preparing seedbeds
Eliminating soil compacting
Getting the right degree of soil finishing according to specific needs
Carrying equipment on the roads without risks
The MAXI P is Celli's flagship folding power harrow, used for tractors with power ranges up to 450 HP. Two typical Celli technical solutions have been adopted on this model:
the typical Celli technical solution using a box frame in thick welded sheet metal was applied to this model: this type of frame ensures maximum rigidity, providing perfect alignment of the transmission parts in all working conditions.
the central hitch is particularly robust to guarantee its functionality and operator safety over the years.
Compared to other models already in the catalog, the MAXI P presents numerous innovations and improvements:
Robust transmission parts (large diameter rotors and cemented gears held in place by strong self-locking rings);
The lower area was completely redesigned for better wear resistance and better ground flow through the machine (double oil seals + outer labyrinth, external support in thick forged steel);
Newly conceived bottom stone protector devices (wedges welded on the frame + removable full fairing).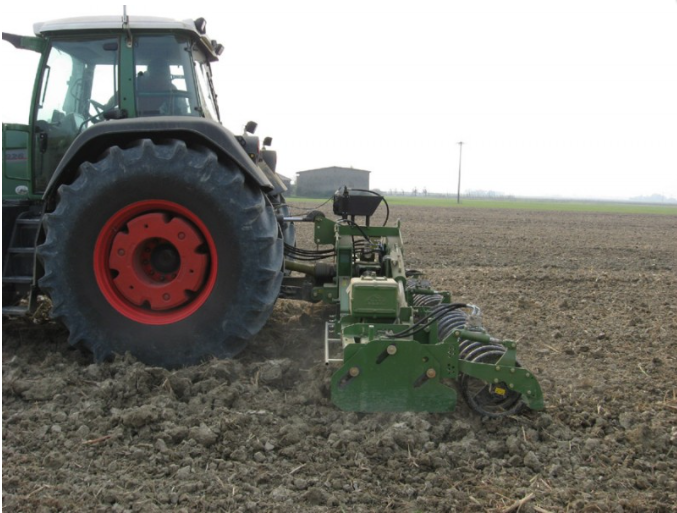 Features
Structure rigidity (box-section frame)
Structure rigidity is of fundamental importance to ensure reliability and durability over time. Stress on the machine, especially at the extremities, is very high. Celli rotating harrows (fixed versions) are extremely rigid and do not need reinforced cross bars. They can therefore be coupled to build folding units without problems.
Central frames
Each model is equipped with a central frame of the necessary robustness, which supports the side units thanks to thick pins coupled with cemented and hardened bushes.
Large diameter rear rollers
They ensure optimal machine leveling and correct "floating" even in light ground conditions.
Versatility
Fast deployment and setting
Machine setting, as well as opening and closing operations are quick: everything can be done from the tractor cabin.
Tine quick release system (on request for Energy/p models)
The quick release is a simple and reliable system, which drastically reduces tine changing times.
Gearbox oil cooling kit (on request).
A main gearbox oil cooling system is available on a number of models in the Celli product range. This is a particularly useful accessory when the equipment is used for long periods of time in harsh conditions. The presence of an oil filter guarantees the elimination of impurities during the breaking-in phase, which lengthens the life of bearings and gears.
Attention to safety
The machines are lifted by robust jacks equipped with lock valves. Once closed, they are locked using safety hooks. A mechanical manual lock may be applied as an additional safety precaution before transport.
Reasonable weight for road transport
Reasonable weights must not be exceeded in order to prevent dangerous situations while transporting on roads, especially in the case of larger machines. Keeping this in mind, high quality materials with optimized dimensions are key to ensure machine resistance that does not affect weight.
Commercial aspects
A very wide and updated range
The range has been completely renovated in recent years.
High productivity
The range of available solutions makes it possible to identify the ideal machine for each type of use, maintaining a maximum hourly productivity level in relation to the available power ranges.
Technical specifications and standard equipment
maximum horsepower: 350 HP (255 KW)
PTO: 2-speed gearbox for 1000 rpm, No. of teeth: 17-22 = 357 rpm; 18-21 = 396 rpm
Cat. 3 3-point hitch
swinging front hitches
rollers with adjustment using pins linked to the leveling bar
rear leveling bar adjustment with threaded bar
tines 100x18x320 mm: working depth about 33 cm
tines with low power absorption
mobile side plates
side drive shafts with automatic safety device
central drive shaft
rear lights for road transport
removable safety devices
cooling unit for side gearboxes with tank
side lifting with double ram (mod.600-700)
Optional accessories
Oil cooling kit for central gearbox
Stone protector kit for rotor
Counterplate for tine locking (rotor kit)
Front track eraser
Gearbox 450 HP with oil cooling for central and side gearbox
Floating system kit
Central track eraser tool
Rear rollers
Hydraulic kit for rollers adjustment