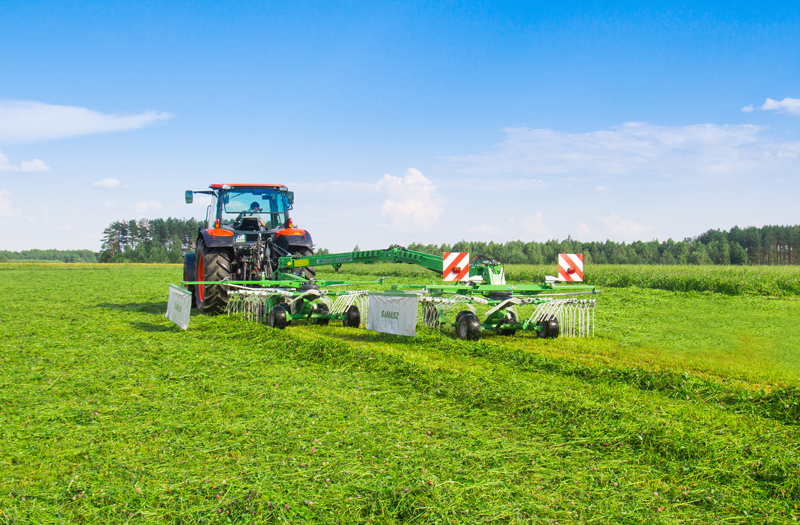 The Samasz 2-rotor rotary rakes DUO 680 and DUO 740 are able to lay either one or two swath rows, also allowing hydraulic adjustment of working width and therefore, windrow width by main frame tilting.
Recommended for middle-sized and large farms. Maximum width of raked swath is approx. 12 m / 39'4" (single large row after 2 runs).
Changes introduced to DUO 740 as compared with DUO 680:
Greater diameters of rotors: ~ 3.3 m
Gear transmitting the drive onto the rear rotor is located nearer the front one – to improve the rake's stability on slopes and when taking tight turns
Hydraulically lifted swath screens (front and rear)
New-generation gear with detachable rotor modules
Introduced new fin-type drawbar catch kept horizontally by a special mechanism.
Standard equipment
wide-angle PTO shaft
tine loss protection
running gear height adjustment
windrow curtains – 2 pcs
warning plates and road lights
front support wheel
rear support wheel
tandem running gear
swath width adjustment
hydraulic fold-up to transport position – 1 or 2 windrow presentation
Optional equipment
Lifting mechanism
Thanks to the lifting mechanism, unit is raised well above the ground (47 cm / 18 1/2" clearance), and leaves the swath intact. the rake can be driven safely on uneven grounds, without the risk of any damage exposure.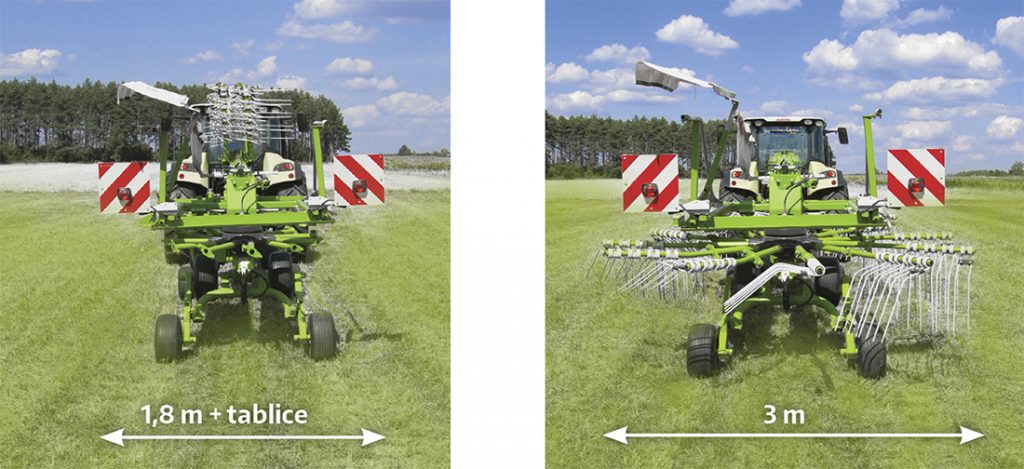 Transport
Quick drive from field to field is not a problem. To support it warning plates and position lights have been applied. As rotor's diameter is 3 m / 9'10" (DUO 680), dismounting rotor arms is not always necessary. For longer drives on roads with bigger traffic it is more comfortable to have these dismounted.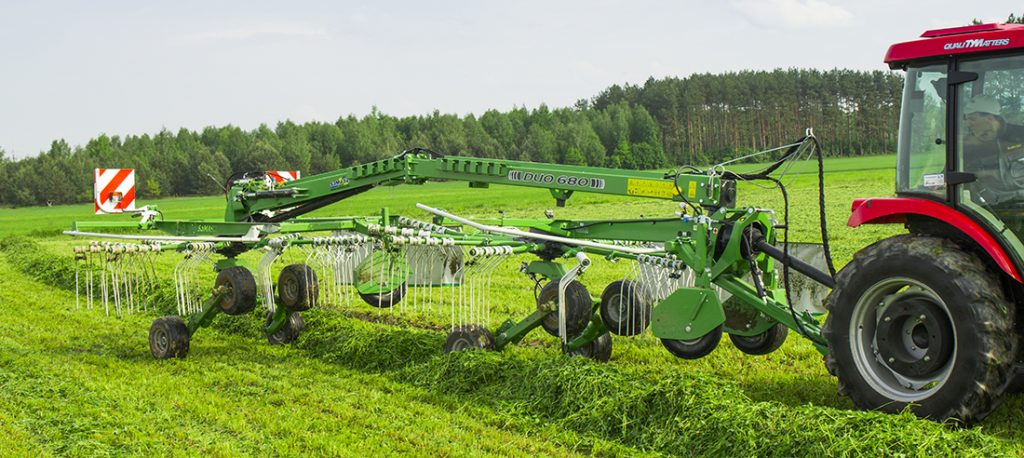 Easy manoeuvring
Large turn angle and adequate height allows for problem-free drive over lying material.
Advantages:
When transported rear unit is behind the front one (in-line rake)
Transport widths possible:

with tine arms – 3 m / 9'10"
w/o tine arms – 2,4 m, / 7'11" (w/o warning plates -1,8 m / 5'11")

Lower weight and compact size as compared to other 2-rotor center delivery rakes
Innovative height adjustment mechanism, which also lifts the machine to transport position and allows for ideal working height tune-up – 47 cm / 18 1/2" ground clearance
2 double action hydraulic couplers to control rear working unit + 1 single action coupler for transport rise
Double tandem running gear, balloon-type wheels (18 x 8,5-8) as well as their close position to tine arms provide perfect ground following and very clean raking.


Transverse A) and Longitudinal B) ground following mechanism allows for independent rotor adjustment. Two support wheels and two independent rotors, provide perfect ground following and very precise raking, even with high working speed.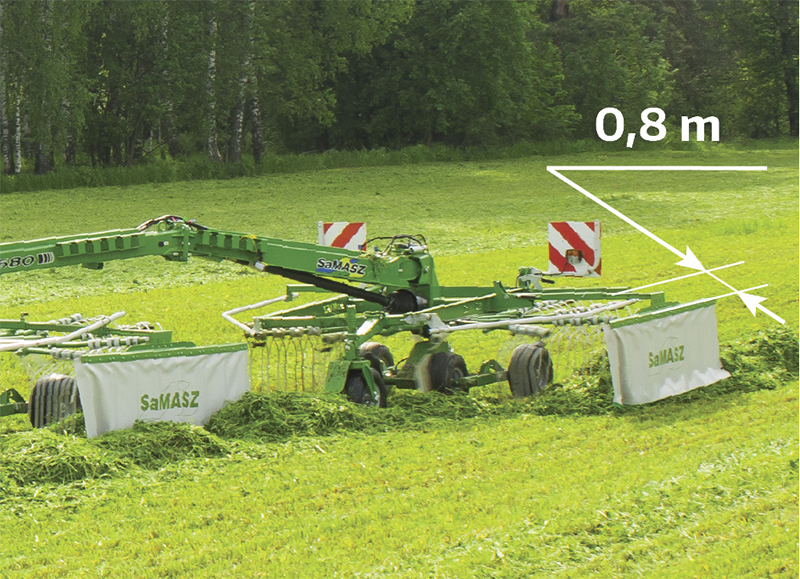 Tandem suspension
Tandem axle, 4 wheels and wide tires, allowed for ground pressure reduction, which is important on soft grounds such as peat fields. Minor ground obstacles (e.g. stones) are levelled by movable trolley wheels.