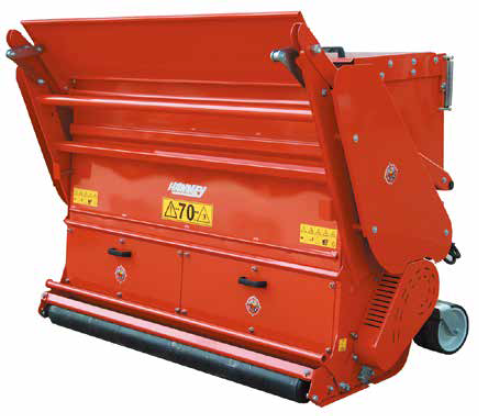 Features:
There is a free wheel clutch in the gearbox for hydraulic PTO tractors.
The hammers are ideally suited to smash and chop up the harder material such as scrub and gorse, manure, sticks and wood into smaller pieces, which can then be turned into mulch and sold or re-used.
The hydraulic rear gate on the container is a huge benefit, as you can tip into any type of trailer or tip truck.
The 3-point linkage Cat.I & II is suitable for small and large tractors (40 to 80hP).
The machine is driven by tooth belts with a tension control opening, which enables the machine to be more aggressive in heavy conditions, and to stop the belts from slipping.
It has metal flaps at the rear, so that the material can be either discharged at the rear of the machine, or it can be transferred into the hopper at the rear.
The machine can be set to different cutting heights by adjusting the height adjustable rear roller.
The heavy duty closed double-bearing system on the rear roller means longevity on the machine.
Replaceable side wear skids can be replaced when worn out, as the machine sits on these skids.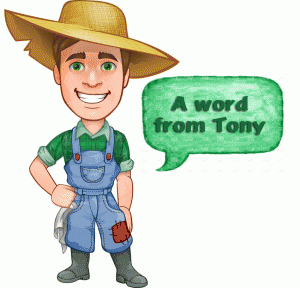 "This larger flail mower with catcher is unique as it has a hydraulic tip which can tip clippings, vegetation, manure etc into a truck or a trailer. It is ideal for the large hobby farmer or horse enthusiast for collecting horse manure, topping pasture and collecting debris such as branches and leaves which can then be made into useful mulch – this can then be turned back into organic matter and spread over your paddocks and vegetable gardens for fertiliser. It also cuts out the long dense pasture which animals won't feed on, removes the cow and horse pats and helps to rejuvenate the pasture for re-growth.
Larger vineyards find these machines very useful for collecting prunings. They also make an ideal contracting machine for a small business, where the tractor and one of these machines can easily fit on a tandem trailer and towed behind a ute – there are thousands of small horse/hobby farmers in need of work such as this.
We mainly keep the 2m one in stock which is also suited to a contractor, as well as councils, sports grounds, golf courses, schools, parks & gardens etc.
These larger machines are easily driven by a 40hP compact tractor and upwards. They are unique in the Australian market, and are very competitively priced, as we import them directly from overseas".  
.