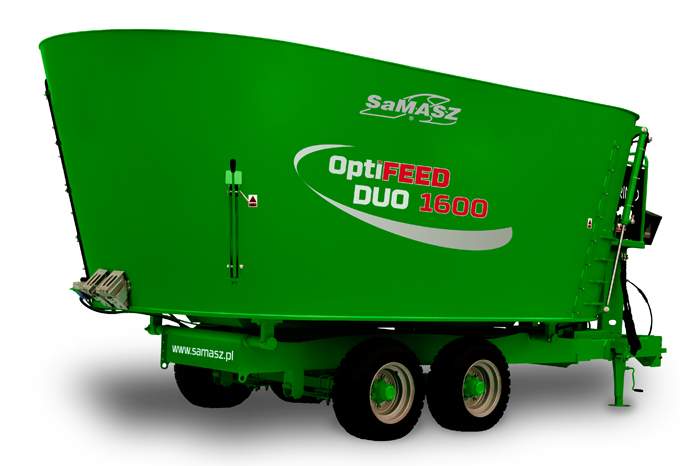 .
.
.
.
OptiFEED DUO
This fodder wagon is designed for large farms. It can be distinguished by its great capacity and high performance, thanks to the use of two vertical augers.
Shock absorbers and tandem suspension ensure great stability of such a large machine. Additional frame reinforcement provides greater stiffness and strength.
.
.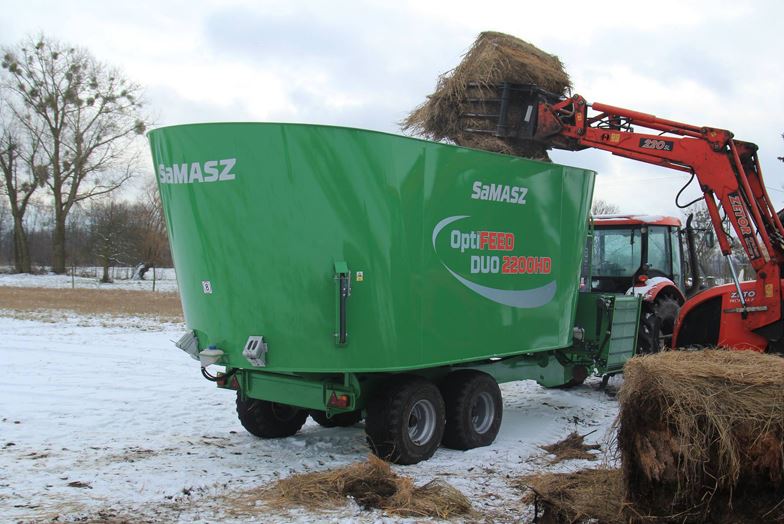 .
.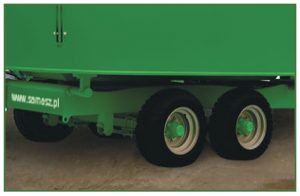 .
.
Tandem suspension
.
.
.
.
.
Top view of the feeder
.
.
.
.
OptiFEED DUO S
OptiFEED DUO S is a new generation mixer wagon. Thanks to its dimensions can be used in every agricultural building. Incredibly low machine with height from 2.25 m (7'4") and 12 m3 (3170 gal) capacity, provides stability and convenience during mixing. OptiFEED DUO S with all its features provides convenience, so far unreachable for operators of smaller mixer-feeders. Weighing system with three sensors.
.
.
Two-auger system for feed preparation provides:
– faster mixing,
– lower power demand,
– lower fuel consumption,
– reduced machine wear,
– easier access to smaller agricultural buildings.
.
OptiFEED DUO HD
The OptiFEED DUO is a model of mixer feeder that connects high efficiency of mixing and bigger capacity with very low power demand. Owing to wider bottom almost ideal relation of height to capacity is reached. Wide discharge window enables faster and precise fodder distribution. HD models of the feeders are designed for middle size and big farms focused on high productivity.
.
Accurate and precise feed is possible, because of individual configuration of discharge windows. Mixer feeder is a versatile machine, able to work in any conditions. Now available for any farmer.