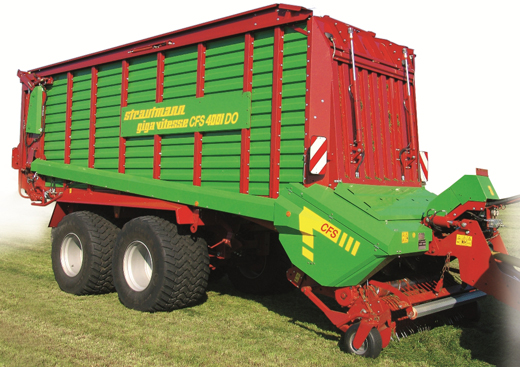 The Strautmann Giga Vitesse CFS Silage Wagon has a large loading capacity and particularly easy towing due to the unique Continuous Flow system (CFS).
Loading capacity of 32-42 m³
CFS unit
Efficient
Easy towing
The Strautmann Continuous Flow System (CFS) is the biggest innovation in silage loader wagons for decades. The name "Vitesse" first introduced in the early 1970s means speed/fast and ever since, Strautmann has set the performance benchmark.
Features of the Giga Vitesse CFS Series Loader Wagon

The CFS system consists of an additional driven spiral-drum between the pickup and the chopping rotor (referred to as the Accelerator Drum). This drum evenly distributes the swath across the width of the cutting rotor and knives.
This results in:
Increased wagon throughput rate (pickup more silage tons in a day)
Increased payload as the wagon is more evenly filled (tighter packed equals more tons per load)
Lower power requirements and reduced fuel consumption
Other features
Camless 2.0m wide chain drive pick-up with 6 V-shaped arranged tine bars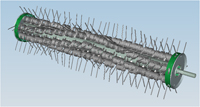 The Continuous Flow System (CFS) is a patented Strautmann innovation that:
Reduces power required, and fuel consumption
Increases the crop weight in the wagon
Improves knife wear by more uniformly wearing across all knives, not just the central ones
CFS accelerator roller is driven by gear-box, through a friction clutch
Guide roller in front of baffle plate
Adjustable pick-up wheels ensuring consistent pick-up in all conditions
Additional steel wheels behind pick up to avoid scalping the ground on uneven surfaces
Electric connection is available for inoculant sprayer
Forage Cutter
Loading rotor 840mm diameter with 8 tine rows, in spiral, for an even driveline load
1640 mm wide continuous feeding and cutting without power peaks
Hardox 17mm steel tine plates allows for easy and precise scissor-like cutting
Forage cutter rotor is driven by a reduction gear box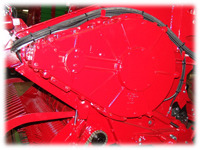 45 cutters on a single line for a precise scissor-like cut of 35 mm
Blades with double cutting serrated edges can be flipped in-field to give a fresh sharp cutting edge
Cutting unit with hydraulic swing-out function via two double-action hydraulic cylinders for release and engagement of blades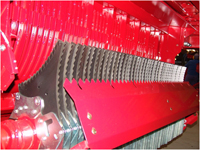 Quick-change system for tool-less installation and replacement of blades in seconds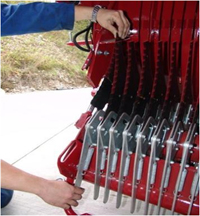 Patented individual blade protection system
In other products, hard debris, such as stones, are pushed along the length of the knife edge, increasing wear
With the Strautmann system, contact at any point on the knife causes the individual knife to be ejected.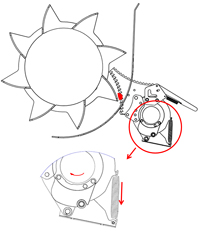 Wagon
Front loading gate with integrated automatic loading mechanism, detects the rise of the forage on the front wall and automatically advances the floor to uniformly fill the wagon.
Moving floor is hydraulically driven on both sides with variable speed adjustment in 2 speed ranges:

Normal speed is for the loading process
The high speed is for cleaning out the wagon on the silage pit/slade
Galvanized steel floor for long life and smooth push

4 plate-link high tensile scraper floor chains with high breaking load
Automatic floor chain tensioning
Heavy Duty hydraulically opening rear door – 2 stage
Baffle at the top front gate
Lighting for load space
Chassis and Drawbar
Chassis for 26.5" tyres
Integrated hydraulic braking (optional Air-brakes)
Tandem axle with steering – 40 km/h
Drawbar with ring hitch or ball hitch (wagon side only)
Hydraulic drawbar with double-acting cylinders for greater clearance over the stack
Hydraulic accumulator suspension on drawbar reduces shock loads on the tractor during transport for improved operator comfort
PTO Shaft with cam clutch and wide angle both sides
Road lights, reflectors, signage and drawbar chains to VIC Roads Standards
Boogie-chassis with steering axle in series

Small pivot point causes the "roll-over-effect" – easy driving and easy roll onto the clamp silage
High tension comfort because of the three-coat parabel-tension
Controls