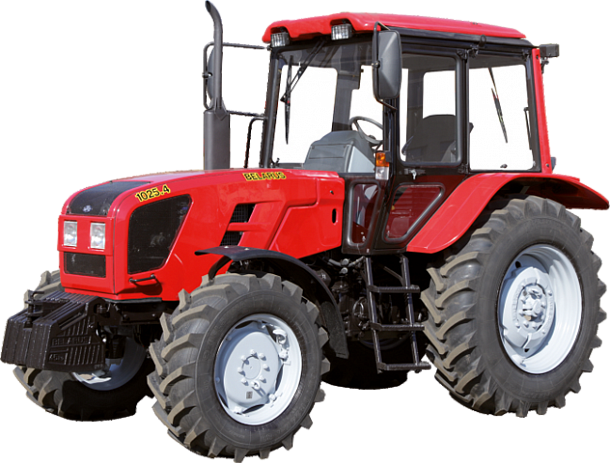 The Belarus 2015.4 tractor is designed for various agricultural operations with mounted, semi-mounted and trailed machines and implements, for transport operations.
At consumer's option the engine of Minsk Motor Plant is installed with "Common RaiF" fuel feed electronic control system from "Bosch" or with "Mercer" fuel feed mechanical control system and "Motorpal" electronic fuel-control unit.
Transmission with pressure-lubricating system. Power take-off shaft with hydraulically tightening disks. Front driving axle with planetary spur reduction gears, diesel engine complies with Stage Ilia ecological requirements according to emissions of hazardous substances.
Additional options:
Brakes operating in oil reservoir
Reducing gear
Set for dual rear wheels
Air conditioner
Additional seat
Lifting type drawbar device
Double-wire pneumatic drive
Combined pneumatic drive
Capacity 110,2/81,0 h.p/kW
Axle arrangement 4К4
Selective gear synchronized
Number of gears FWD/BWD 16/8
Specifications
Engine
Type
diesel with turbocharging, direct injection and aftercooler
Capacity, h.p/kW
110,2/81,0
Brand mark
D-245S3A/D-245S3AM
Ecological standard
Stage IIIА
Fuel use, g/(kW·h)
235,00 ± 5,0/279,00 ± 5,0
Torque capacity, Н·m2
440
Transmission system
Selective gear
mechanical, synchronized
Flywheel clutch
dry, double disk
Number of gears FWD/BWD
16/8
Back PTO shaft, min-1
540/1000
Rear axle differential lock: with electrohydraulic control, three operating modes (disengaged; lock engaged with automatic disengagement when front wheels turn more titan 13 degree; forced engaged).
Hydraulic hitch system: unit-principle with hydraulic IHt, providing draft, position, combined and height position control of implements.
Hydraulics
Load-carrying capacity of back suspension gear on suspension axis, kg, minimum
4200
Full scale pressure, MPa
20-2
Pump displacement at nominal speed of diesel crankshaft, l/min, minimum
56
Hydraulics reservoir capacity, l
28,5 ± 0,5
Undercarriage
Type
wheeled
Axle arrangement
4К4
Tyres
front
360/70R24; 11,2R24
back
15,5R38; 18.4R34; 9.5R42; 11,2R42
Other specifications
Maximum weight, kg
8000
Climatic modification
У1,Т1
Minimum and maximum speed FWD/BWD, km/h
Min 2,3/4,1; Max 36,6/17,2
Reverse gear
mechanical