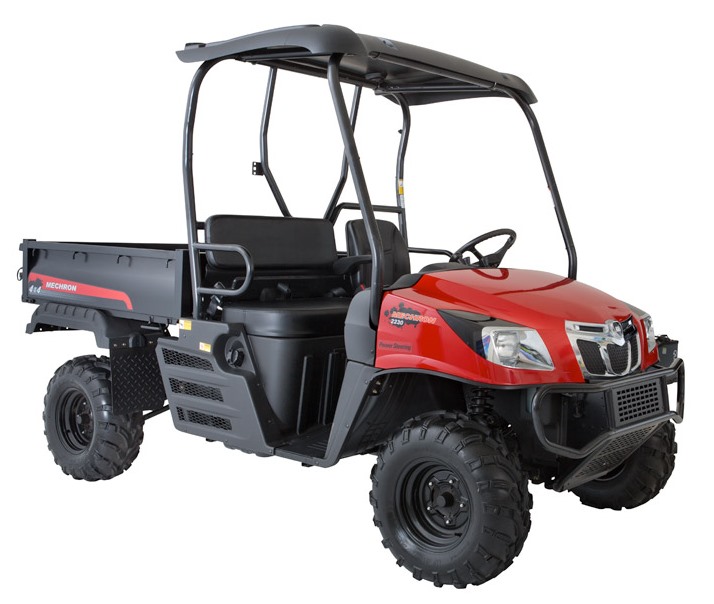 The Mechron 2230 increases safety with seatbelts and a heavy duty ROPS frame. A wide bench seat provides room for the driver and two passengers, seat belts with retractors fitted standard. Comes with optional windscreen.
Standard Features
22hp Daedong Diesel Engine
2 Speed CVT Transmission
4-Wheel Drive with Diff Locks
3 Seater with Seat Belts
Hydraulic Disc Brake
Extended wheelbase and cargo tray version
.
 
Engine
Cargo Bed
Daedong 3C100LWU
Length 1,280mm
3 cyl In-Line Vertical, Water Cooled
Width 1,427mm
22 HP @ 2800rpm
Depth 293mm
 
Capacity 500kg
Drive Train
 
Belt CVT
 Tyres HDWS / Turf / ATV
Gear Range L,H,N,R
 Front: 25×10-12
Front / Rear Hyd Dry Caliper Disc Brakes
 Rear: 25×10-12
 
 
Suspension
 Dimensions
Front – Independent MacPherson Strut
 Length – 3,205mm
Rear – Independent Wishbone
 Width – 1,543mm
 
 Height – 1,940
 
 Ground Clearance – 304mm
 
 Weight – 843kg