120-180HP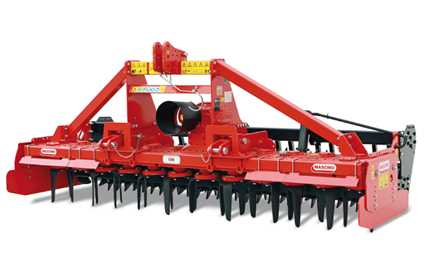 The Maschio DM Power Harrows are designed to suit the requirements of medium to large sized farms and farm contractors. They can be matched to medium-high powered tractors and they are especially designed for combined use.
The solid structure and the possibility of using on grip blades make it the ideal implement, even on unploughed land. Available in 3 & 4 m models. Available in 3 and 4 metre versions, with 450mm cage or 500mm tooth packer roller, suited for tractors up to 200HP.
MASCHIO POWER HARROWS
The 40 year experience of the Maschio group comes to the fore in its power harrows; a constructive philosophy based on 25cm pitch rotors which guarantee performance.
Excellent soil preparation with minimum power absorption. The double casing and the bearing-toothed wheel-bearing structure, well-spaced between them, constitute the framework of a robust body resistant to blows and twisting.
The power harrow is an important implement for seed bed preparation. The advantages include:
Optimal soil break-up; ideal distribution between fine soil in depth and larger sods on the surface, which prevents a surface crust from forming. The rotary teeth movement exercise a horizontal and not a vertical pressure on the soil, preventing the formation of a hard layer at depth.
Versatility and all-purpose use; adaptation to most soil conditions and excellent capability of working both ploughed and unploughed land
Optimal stubble/trash burying in the upper soil layer; in particular, the use of specific blades (on grip) produces a perfect soil remixing even in large amounts of stubble/trash
Perfect soil levelling guaranteed by levelling bar and the roller movement
Possibility of use in combination with seed drill, considerably reducing operation costs.
Aware of the needs of the users of folding power harrows, the Maschio Group offers high performance products without denying customers simple and economic maintenance, guaranteed for all models. The double casing and the properly spaced bearing-toothed-wheel-bearing structure make up the skeletal core of a very rugged body resistant to shocks and torsion.
The Maschio power harrow rotor distance is 25cm, giving 12 rotors over 3m, instead of the traditional 10 rotors as seen on a number of competitors.
This means for Maschio power harrow:
Higher soil pulverisation
Less power absorption due to the narrower circumference of the blade working circle
Rotors phasing allows more gradual blade penetration into soil