(200-380hp)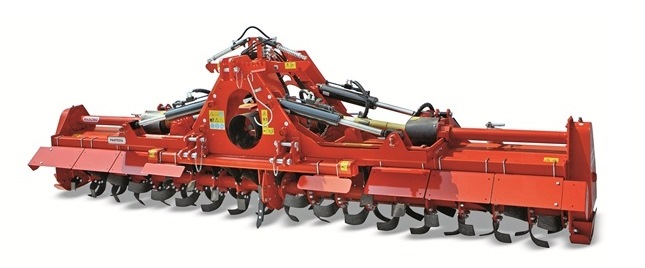 The attention paid to the needs of farm-contractors and large farms has inspired the design and production of the Maschio Pantera Rotary Hoe. The Pantera is a professional folding steerage hoe available in three different versions (from 470, 520, 570 & 620 cm) and built for tractors with power output ranging from 200 to 380 HP. 
The rigidity of the structure and the quality of the materials used guarantee long-lasting reliability and production, combined with easy and safe road transport.
All Pantera models come with a central speed gearbox and oil cooler. PTO 1000 rpm – rotor revolution (rpm): 258 optional 330rpm.
Standard equipment includes:
Central speed gearbox 1000 rpm PTO
Rotor revolutions (rpm): 258
PTO shaft with cam clutch (1″ 3/8 Z6 tractor side yoke)
Heavy duty side PTO shafts
Double side transmission with oil bath gears
Heavy duty barrel type rotor bearings
Universal three point hitch, Cat. III
Swinging/rigid front bar hitches
Six blades per flange (side blades are always mounted inwards)
Bonnet spring adjusters
Central eradicator
Small central share between the rollers
Transport width (folded): 249 cm
Rear lights for transport
Double rear bonnet
«CE» safety guards