MULTISPEED GEARBOX
(90-170 HP)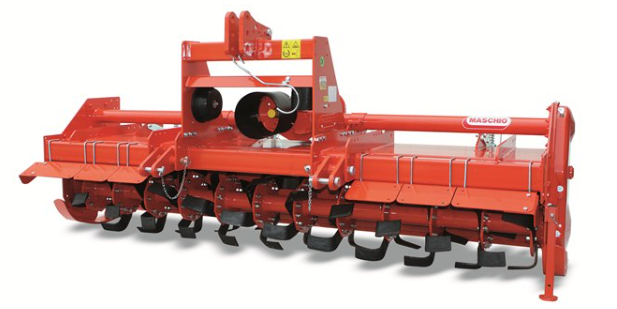 The Maschio SC-Model Rotary Hoe is designed for large farms and outside contractors. It is ideal for working in particularly heavy conditions.
Its new mechanical structure and wide choice of accessories will enable operators to achieve excellent results on any type of ground.
It is available in this version with the Cobra and Condor type blade rotor.
Standard Features
         540/1000 rpm PTO gearbox
         Rotor revolutions PTO 540 rpm (3s): 133-162-220
         Rotor revolutions PTO 1000 rpm (3s): 181-246-300
         PTO shaft with slip clutch (1" 3/8 Z6 tractor side yoke)
         Side gears drive in oil bath
         Universal three point hitch, Cat. II^
         Swinging front hitches
         Rear PTO
         Six blades per flange (side blades are always mounted inwards)
         Bonnet spring adjusters
         Pair of skids
         Heavy duty barrel type bearings
         "Duo cone" waterproof sealings, oil bath lubrication
         Third point linkages standard on 280 and wider versions
         «CE» safety guards
         Version with Ø 570 mm rotor available upon request
         Version with outwards mounted side blades available upon request