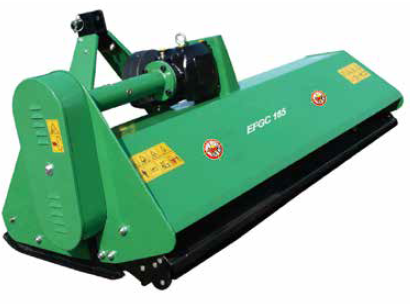 The Hanmey Heavy Duty Flail Mower EFGC & EFGCH models are stronger and more powerful for maintaining more rugged landscape areas including heavy grasses, storm debris, sticks, vines and more around farms, properties, parklands and roadsides.
Ideal for thick grass, sticks, undergrowth and light vine mulching
Vegetable & pasture topping
Roadside maintenance.
Features:
The EFGC & EFGCH Series are heavy duty flail mowers that are strong and reliable for heavier work loads.
The low weight and power requirement of the flail mowers make it suitable for use with small to medium sized tractors.
The EFGC & EFGCH range of flail mowers are fitted with a high power 50hp gear box and robust drive line to give hassle free mowing
Cutting height controlled by adjustable skids
Extra strong and designed with safety in mind
Support leg for storage
Solid hitch.