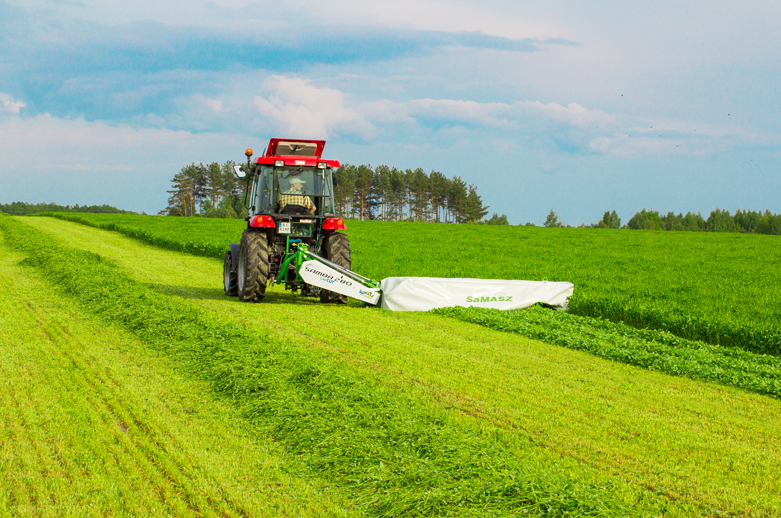 .
.
.
Samba light rear disc mowers with working widths of 1,60 m, 2.00 m, 2.40 m and 2.80 m are designed for farmers who own smaller farms. Application of innovative suspension assembly allows adjusting optimal pressure of cutterbar onto the ground.
Mowers feature the recent SaMASZ manufactured LiteCUT light cutterbar with quick knife replacement option. What is more, the mower has been equipped with hardened discs and slides, central knife holder and strengthened bushings. Besides, properly designed hardened knife holder significantly improves cleaning of the bar from any dirt present.
.
.
Samasz Lite Cut

LiteCUT cutterbar is another new model of the cutterbar installed in light mowers Samba, designed for operation on smaller farms and on mountainous and swamp areas. Completely new design provides reliability, high durability and precise cutting, and all that with reduced power demand.
.
.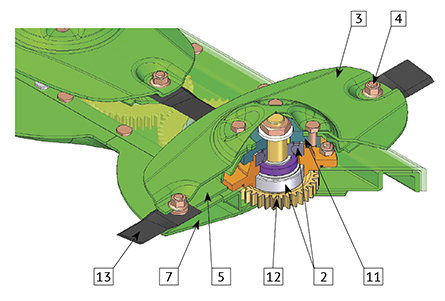 General advantages of LiteCUT cutterbars:
Smooth mowing height adjustment from 4 up to 6 cm.
Cogwheels have 6208 2RS N type bearings, while disc module 6306 2RS C3. These are one of the most durable among used by our West European competition.
Owing to their properly shaped surface, specially tampered discs of hardened steel provide protection against cutterbar dirtying.
Easily replaceable, bolted knife pins.
Tempered central knife holder made of hardened steel. Its enhanced design enables the cutterbar to be cleaned more thoroughly and disables knife locking underneath the disc – loose knife mounting allows for its 360° rotation.
Innovative quick knife replacement system. A knife is replaced by means of a special lever, only when the disc is perpendicular to the cutterbar (± 20°). Thanks to this, probability of "loosing" a knife upon hitting a stone is reduced to minimum.
Tampered sliding skids of hardened steel provide protection of the cutterbar surface from the bottom. Easy and quick replacement of sliding skids by unscrewing three bolts.
Additional skid of tampered and hardened steel to protect the cutterbar drive.
Changed design of drums to improve swath guiding quality, particularly on hills and to reduce risk of grass winding onto the drums.
Improved knife overlapping (to reduce the risk of leaving potential strips of uncut grass).
Quick and easy module replacement, owing to enhanced upper hub.
Cogwheels 18 mm width.
105 mm long knives of high quality meet very strict safety requirements. To guarantee the quality, each of the knives has SaMASZ badge engraved.
High resistance to clogging with clay.
.

Standard-delivered specially designed lever allows quick replacement of cutting knives.