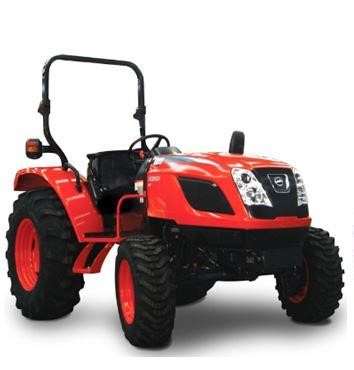 The Kioti Daedong NX6020 tractors are ready for any job that demands a durable tractor. An efficient engine, HST Drive and flat work platform make the NX series a great value tractor.
The NX series is loaded with standard equipment and features such as wet disc brakes, rear remotes, PTO, adjustable seat and true cruise control.
Standard Features:
Joystick Valve
Auto PTO
Remote Valves (2)
7-Pin Socket
Tilt Steering Wheel
Engine & Transmission
The exceptionally quiet KIOTI diesel engines produce little vibration at working speeds and meet or exceed all EPA and CARB regulations through optimal combustion and fuel economy.
The NX series Kioti tractor feature a performance proven heavy duty HST transmission that delivers power smoothly and efficiently. The 3-speed ranged transmission with separate twin pedals makes the job easier, smoother and safer.
Operators Station
A new designed LCD panel provides all necessary information offering high-visibility through symbols and letters with LED lights and easy to reach and operator controls. The LCD monitor also displays PTO revs, fuel indicator and engine temperature.
Hydraulic System
An additional and separate filter for Kioti HST transmissions prevents possible contamination from other hydraulic systems and helps to assure product life. The addition of an oil cooler for the HST system prevents system oils from overheating under heavy loads and harsh working conditions. With a lift of 1334 kg., the NX series Cat. 1 three point hitch has power to spare when carrying large implements, such as mowers and blades.
Specifications
| | |
| --- | --- |
| ENGINE | FRONT AXLE |
| Daedong 4B243LWHR | Wet Multi Disk Type |
| Liquid Cooled 4 Cylinder Diesel | |
| 2435cc Displacement | OPERATOR ENVIRONMENT |
| 60hp @ 2800 rpm (max) | High Quality Fully Adjustable Seat |
| 56 Litre Fuel Tank Capacity | Arm rests and Backrests |
| | Adjustable Steering Wheel and Instruments |
| TRANSMISSION | |
| 3 Range Hydrostatic | OPERATOR STATION |
| 4 Wheel Drive | Joystick Control Valve |
| Differential Lock | Step Through Platform |
| | Adjustable Suspension Seat |
| POWER TAKE OFF | Full Dash Instrumentation |
| Independent 540rpm PTO | |
| Electric Switch Engagement | |
| | |
| HYDRAULICS & LINKAGE | |
| Position & Draft Control | TRAVEL SPEEDS |
| Implement Pump 36.4 l/pm | Forward 0-28kph / Reverse 0-28kph |
| Steering Pump 31.2 l/pm | |
| Maximum Total Flow 67.6 l/pm | DIMENSIONS |
| Quicke Hitch Hook Ends (Cat 1) | Overall Length 3547mm |
| Swinging Draw Bar | |
| 4 Sets of Hydraulic Remotes (2 rear/2 front) | Overall Height (ROPS) 2618mm |
| | Wheelbase 1920mm |
| TYRES | Minimum Ground Clearance 376mm |
| Industrial Tyre R4 Front 10 – 16.5 | |
| Rear 14.9 – 24 | Weight (ROPS) 1605kgs |
| | |
| MODELS | |
| NX5010 ROPS | NX5010 Cabin |
| | |
| OPTIONS | |
| KL155 Loader with 4in1 Bucket | 300mm Backhoe Bucket |
| KB2475 Backhoe with 400mm Bucket | 450mm Backhoe Bucket |
| Rear Counter Balance Weight Box (650kg) | 600mm Backhoe Bucket |
| AG Tyres 8-16 / 13.6-24 (check for availability) | Pallet Forks |
| 230mm Backhoe Bucket | Bale Forks |