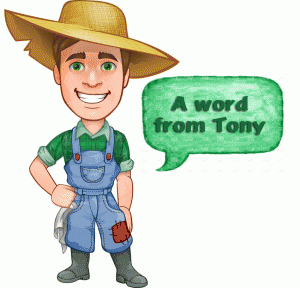 "Power harrows are amazing for incorporating all types of manures in soil and can reach depths of 12 inches. They are gentle on the soil and non-inversion, which means they don't bring the sub soil to the top as discs or rotary hoes do.
They are amazing for organic growers, as they don't chop – they tear instead. They rip out the weeds by the roots and turn the roots up to the sun, which kills the weeds without use of chemicals. I personally have been using these for over 40 years on my farms and with contracting work.
They can be fitted up with rippers on the front and air seeders on the back, so that you can do a complete pasture renovation in just 1 pass, compared to a normal ground preparation of 6 – 7 passes with discs, cultivators, harrows and seeders. These machines leave a perfectly level finish and are also ideal for horse arenas and race tracks. Central Hills Machinery have been doing this at Morphetville Raceourse for 12 years. These machines are ideal for mixing large areas that have been clay-spread, which is a common occurrence in some arable areas of South Australia including Keith, Bordertown and Pinnaroo.
Power harrows are used widely for potato planting, poppy seeding, carrot seeding and onions etc. Some of the older Lely machines have worked for ground preparation well over a million acres virtually trouble-free. All power harrows drive a third easier than a rotary hoe, which means you can have a power harrow that's a third larger in size instead (eg: if you use a 2m rotary hoe, with the same horsepower you can drive a 3m power harrow). This has been proven countless times by many farmers. I have sold over 1000 power harrows over 40 years in South Australia, Victoria and Tasmania.
Regardless of people's perceptions, power harrows that have been set up correctly are very capable in rocky conditions. For example, the north west coast of Tasmania has a huge amount of bluestone rock, and there are hundreds of these machines working on properties there. Also, these machines are amazing for clearing scrub, small trees, button grass, bracken fern, tussocks and gorse, as the contra-rotating tynes rip the roots out of the gorse, weeds, trees etc, and fold them over behind the power harrow. It then leaves the roots exposed to the elements, which will then rot down. I myself have cleared hundreds of acres of this type of country in Tasmania."
.
The smaller Hanmey Power Harrow  is suitable for 25- 60HP tractors, and are very reasonably priced – they actually cost less than a comparative-sized rotary hoe. This power harrow is great for the hobby farmer or weekend farmer's pastures as you can run this machine over the pasture and by judging your speed of the tractor and the rotor speed of the power harrow, you can take out relevant weeds and leave the pasture, level out pugged up ground, and eliminate all the old cow pats. By doing this you then stimulate the old seeds, rye grasses and clovers that have been dormant in your paddocks, which will then choke out weeds such as kikuyu, onion weed and cape weed, which helps give you healthier pastures for healthier horses, cattle, sheep, alpacas etc. Tony's rating 9/10
.
The larger Hanmey Heavy Power Harrow is based around the well-known brand Maschio. These machines are extremely heavy duty and they range from 3m 3.5m, 4m, and 4.5m. Central Hills brings these machines direct from the manufacturer, so there's a saving to the customer of around 30-50% from other comparable machines. These bigger power harrows are suitable for 100hp to 250hp tractors. These machines can be used for extensive cropping, broadacre, deep tillage work or final ground preparation for onions, peas, poppies, carrots and cereal crops. These larger machines can also be fitted with air seeders  for sowing various types of seeds. Tony's rating: 9/10
.
The Fieldking Power Harrow is a mid-range heavy duty power harrow from 50hp – 100hp. Benefits as previously explained, and once again up to 30 – 50% saving on comparable machines.  Tony's rating: 9/10
.
The Lely Power Harrows were designed by van der Lely's over 50 years ago, with over 40 patents on the machine. They have a unique clutch system which is patented by Lely as a self loading sheer pin, which gives you 40 brakes without reloading, rather than using less functional ratchet clutch and frictional clutches on all of the machines. These machines are exceptional quality, and some of these machines have done well over a million acres in very arduous conditions including sand, rocks and clay. Tony's rating: 10/10 
Choose from the following: